Episode 46: Things to Consider When Purchasing a Home
Whether you're a first-time homebuyer or a seasoned investor, the journey towards purchasing a home can be both exhilarating and daunting. On this episode of Wright Money Tips, Isaac Wright, CFP®, ChFC® and Kevin Buenvenida, CFP® delve into the essential factors to consider before purchasing a home to help you make an informed and confident decision.
Here are just a handful of the things that we'll discuss:
How purchasing a home can impact your cash flow.
Why it's important to have a clear picture of the expenses involved in purchasing a home.
Why renting may be a good option versus home ownership.
How your credit score can impact the type of mortgage you qualify for.
How a financial planner can help you integrate the purchase of a home into your overall financial and lifestyle plan.
Isaac Wright: Well, welcome back to Wright Money Tips November 2023 edition. We're going to have a great topic coming to you today because obviously if you paid attention to the housing market for this year, there have been a lot of moving parts. I want to introduce Kevin Buenvenida. Kevin's one of our lead financial professionals here and advisors at Financial Dynamics.
Kevin, the real estate market, housing market has been, I don't even know how to call it, has been so volatile in terms of just rates and price points. And we're going to talk a little bit about today, about what to consider when going for home ownership because it's completely different than what it was in 2022.
And of course, interest rates play a large role in that. Pricing plays a large role in that. Kevin, maybe the first thing we want to talk about is what are some things to even consider when it comes to homeownership in today's landscape?
Kevin Buenvenida: That's a solid first question to start off today's conversation with. I think in the grand scheme of things, understanding where home buying for you as an individual or as a family or as a group fits in with your overall financial goals and priorities. As we think about the craziness with the housing market of the last couple of years, it's become more prohibitive in terms of cost. The interest rates and all things considered to become either a first-time home buyer or even consider downsizing or even upgrading your home if you're a current homeowner buyer.
So, taking stock of where home buying fits into your process so you can prioritize the impact financially as well as mentally, emotionally. The process is going to be for the rest of your financial picture.
Isaac Wright: Let me interrupt you here. Because you know again, a majority of our listeners are here locally. You cannot find a home in the western side of Chesterfield County as a starter home for under $300,000. I could even argue it's maybe even pushing $350,000. Then on top of that, you go from interest rates of being three, three and a half to six, seven percent. And then, you know, to find a home, you may be in a bidding war because there's not enough homes.
Yes, you guys have seen plenty of townhomes and apartments being built. But, again, home ownership, or at least new homes, there's no new homes that are in starter neighborhoods. All of those are north of basically $600,000. So, when you're talking about the financial impact, I'm just trying to reiterate some of that because depending on what your income is, it may make sense not to consider home ownership.
What are some other things to consider about home ownership when it comes to not maybe just the finances, but you know, time horizons, things like that?
Kevin Buenvenida: Yeah. So when we think about maybe the non-financial impacts of purchasing a home, obviously you're trying to build flexibility for your lifestyle and that could be: planning for a growing family, or maybe it's necessitating a home that requires less maintenance, especially if you're entering your retiree years and you don't want to be spending time cutting the grass or chopping down trees every weekend. And you need some of those things to facilitate the type of lifestyle that you want at that particular time.
But as we think about other aspects, small things like commute, local communities, parks, recreation, all of those things will have an impact as to where you eventually want to decide to plant your roots for that next purchase.
Isaac Wright: You know, we get this question, should I rent versus own? Obviously, there's a pretty strong argument and you may be financially priced out where you don't have the option to own anyway. But should you jump in and buy a home and feel like if you, let's call it move in a few years I guess, what are some general rules to what we've kind of looked at related to owning versus renting?
Kevin Buenvenida: I think it's important for us to state that it's not an absolute that every individual in this country has to purchase a home and that when we take that step across that threshold of purchasing a home, there are a lot of other costs associated with home buying and home ownership process that you don't have to worry about when you rent. For example, the maintenance. If something happens to the kitchen sink, you know, property that you rent, that cost is pretty much taken care of for you by the land owner or the property owner, but that's on you as a homeowner.
And so, when we think about the tradeoffs, especially from a time horizon standpoint, if you're in the position where you may end up moving in the next 3 to 5 years again, after purchasing this current home, it may not make sense for you to go through the process of saving up for the down payment or worrying about the ancillary costs of owning the home if you're outright going to turn around and sell it in five years. And renting may make more sense in that situation.
Isaac Wright: Yeah, you know, we've talked about, at least historically, when it comes to inflation, housing prices. You see the cost of groceries and some of that, obviously, for example, eggs went way up and now they're back down.
Housing is a little different. Housing seems to be somewhat stickier. Once it goes up, it takes a lot for it to go back down, and this is by no means a 2008 situation. We're dealing with a very hard supply demand curve. Basically, not having enough supply for the demand.
So, what you're saying is that if you're planning to not stay in this home for a few years, there's a stronger argument than before, obviously, with interest rates at 3 percent about renting. The other thing is this, and this is just my thought on it. You know, renting, dependent upon, again, rent right now is not an inexpensive proposition. But, if you haven't saved up enough to be able to get that down payment, and granted, there's different types of loan programs. But the pricing of homes right now, a lot of people can argue that we're on the top end of that curve. It all leads to, if you're going to own, you may have to lean more heavily, let's call it, on staying in that house. And if you plan on getting out of the neighborhood, per se, in a few years, it's a riskier proposition than again, it was a year ago.
So, we're not telling you don't own a home, but just telling you that renting may very well give you some air to breathe to make a better financial decision. And maybe if homes do cool off, if interest rates do cool off, which they are. They're forecasted to cool off, but I don't think we'll ever see 3 percent again.
Kevin Buenvenida: Actually, that's a great point that you bring up in terms of the interest rate environment today. It's pretty crazy when we think about rates going from 3, on a 30-year fixed, upwards of 7 or 8 percent. But generationally, 7 or 8 percent is still average, when you consider the last 40 to 50 years. And I'll take my parents as an example.
When they moved to Chesterfield County in the early eighties, they had a mortgage rate closer to 20%. Their auto loan was up 25 to 26 percent. It's something for us to be mindful of in today's environment where the attractiveness of the rates, again, aren't at the bottom from where they were three, four, five years ago, but the rates themselves still appear to be within normal ranges if we take the bigger picture of the last 50 years.
Isaac Wright: Yeah, you know, speaking of interest rates, you know, impacting the interest rate you receive if you go for a home mortgage is more important than ever before.
Kevin Buenvenida: Yeah, and all of those things combine when it comes to your planning process and identifying the goals and what the financial pact is going to be. You know, there are a lot of rules of thumb, but from the standpoint of purchasing a home, and maybe this is where renting comes into play. You may be on the cusp of financially being able to afford a home, but you may end up ultimately becoming home poor. And that in itself may be restrictive in accomplishing other areas of your financial goals, whether that's maintaining a sufficient emergency fund, sufficiently planning and saving for retirement, or if you're in a position where you're raising a household, saving for college expenses down the road.
So, maybe to the original point here, home buying isn't the end all be all. There's a lot of flexibility out there, if you take a bigger picture view and know that what you're really looking for is flexibility based on how things are currently presenting themselves today.
Isaac Wright: You want to talk a little bit about your credit score and how important that could be?
Kevin Buenvenida: Oh, that's dramatically important in that when we think about some of the things you should consider initially as you do the thought process of deciding whether or not to purchase a home, to take stock of all your resources. And that includes what you have in the bank for down payment, your retirement accounts, the income that you have coming into the door. But also cross-referencing that with your current liabilities for debts that you own and taking stock of what your credit score looks like. So, before you really jump into any in debt process, signing forms or papers, or trying to buy that house that you saw on the corner lot, you got to understand where do you currently stand today.
Because you may not be in a position where a lender, the bank, for example, would even extend a loan out to you if your credit score is low enough. Now that's not the end of the world. I think that's important, especially when we think about long-term comprehensive planning. Establish your foundation today so now you know where you want to go and what improvements you can make over time.
And low credit scores do take time to recover. If you do the right actions such as repaying liabilities on a timely manner, being mindful of how much credit you use versus the balance that you're allowed to take out. So, all of those things combined, really, really important. Take note of where you're at and then put a plan in place from there.
Isaac Wright: Yeah. And you know, credit scores, honestly, I think, you know, you can go onto the AnnualCreditReport.com. You can see your scores, you have a little bit more access to information than you used to. You can also look at that report and make sure that you're not being fraudulently. You know, there's something that's on your credit report that's negatively impacting it, and that's a big deal.
So, you know, all of these little, small things that do matter when it comes to figuring out what home ownership looks like. If you work with a realtor or not, you know, financially speaking, we can also look at it from a standpoint of being planners to give you the insight that you would need to say, alright, not only are you going to have this mortgage payment, here are your estimates for taxes, here are your estimates for upkeep, here are your estimates for your utilities, your gas, your groceries, building out what that lifestyle is going to look like.
And what Kevin's basically saying is this, if percentage wise that's taken more than half of your income and you have very little discretionary money, it could very well make sense to rent for a little bit if it's going to be less expensive. You know, home prices, this is just me saying this, this is not anything data driven, just feels like to me, based upon what people are making in income today, the sustainability of prices either have to start leveling off or going down. I mean, there's just not enough that I think that's going to sustain a continued upward momentum in the housing market, at least in this area. But, you know, I guess time will tell. And if I'm wrong, I'm wrong.
But you know, we're seeing a ton of townhomes and apartments being built, maybe not so much on the home front. But, you know, at the end of the day, it's the lifestyle that you want to generate. We want to make sure that you understand what that looks like. If there's any opportunities to improve the investments and things that you own on that front, to make sure that you generate enough income or distribution from that investment. These are all things that we do.
So, you know, Kevin, I felt like today, leading into this conversation about home ownership and how difficult it is right now, I just want people to realize that don't look at it negatively if you decide to rent or live in a townhome or something. Again, I mean, even the new townhomes being built are north of $400,000. It's just a unique situation. We're not living in Washington, D.C., or a big city, but it certainly feels that way.
Kevin Buenvenida: I also want to add that when you think about your situation, try not to compare it to others. And that's a way that we tend to find ourselves getting into trouble when we think I have to buy a home or I have to buy a home of a certain size, certain price just to feel like I'm competing or staying level with others that I might surround myself with. So, as we think about your situation, it's very personal. It's a very intimate choice that you have to make. Make sure that you understand that those choices, you're making the choices for yourself.
And I think the power of the financial planning process, especially with us, is we're not going to use a cookie cutter approach or apply rules of thumb or standards that may not necessarily fit your lifestyle or the way you think or believe about certain things. And you really want to have a team or a partner that resonates with the way that the facts are important to you versus things that might be important to others.
Isaac Wright: Well, ladies and gentlemen, I want to thank you all for tuning into the November show. And I know we're getting close, very close to the end of the year, heading into a new year. But, you know, obviously, as things have dialed in from a home ownership standpoint, we wanted to check in with everybody to say here's kind of some thoughts around it.
Financial planning can be a key component of whether or not you decide to either sell your home if you already own one, maybe upgrading the house, or downsizing. Downsizing doesn't necessarily mean that you're reducing costs sometimes. Again, a lot of those variables we can help you with. Reach out and feel free to talk to us anytime.
Kevin. Glad to have you on the program. For those of you out there, we look forward to talking to you soon.
If you have any concerns or questions, you can visit WrightMoneyTips.com to request some time on our calendar, or please subscribe when visiting WrightMoneyTips.com to receive notifications on new episodes, our newsletter, and even upcoming events.
Advisory services offered through J.W. Cole Advisors, Inc. ("JWCA"). Financial Dynamics & Associates, Inc. and JWCA are unaffiliated entities.
Certified Financial Planner Board of Standards, Inc. owns the certification marks CFP®, CERTIFIED FINANCIAL PLANNER™, CFP® (with plaque design) and CFP® (with flame design) in the U.S., which it awards to individuals who successfully complete CFP Board's initial and ongoing certification requirements.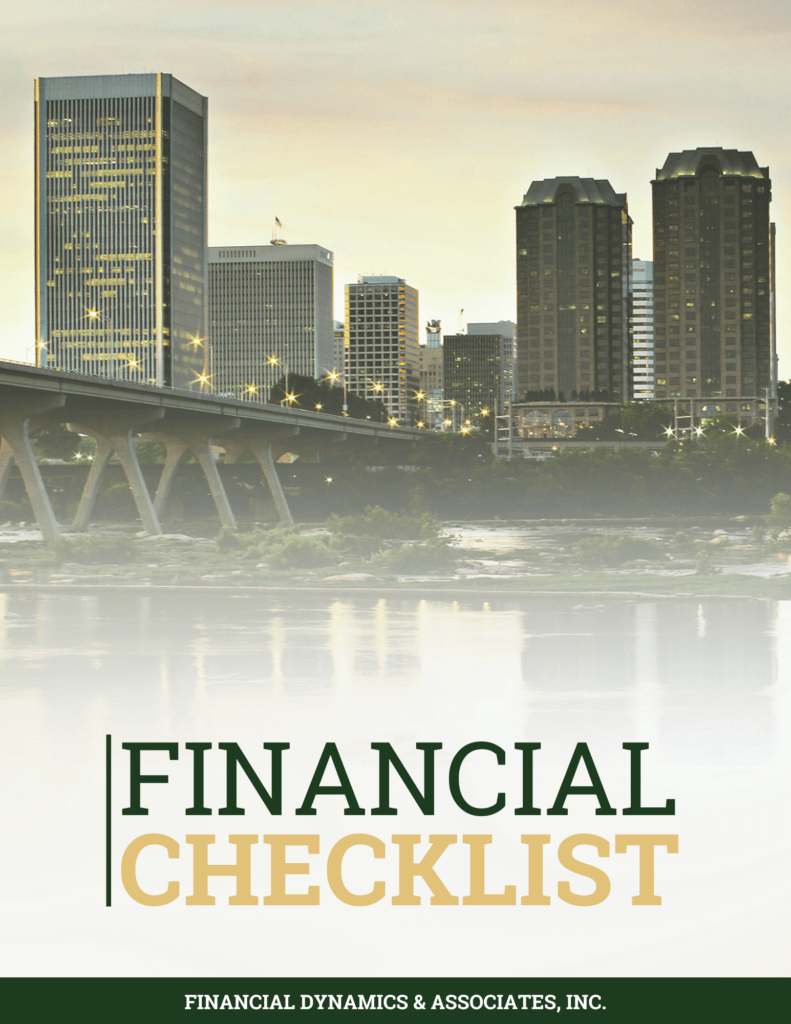 Get your complimentary copy of
Financial Checklist