Episode 44: An Overview of Medicare
On this episode of Wright Money Tips, Isaac Wright, CFP®, ChFC® and Aaron Reed, RICP® provide an overview of Medicare and discuss how this federal health insurance program can play an integral role in your overall retirement plan.
Here are just a handful of the things that we'll discuss:
Medicare eligibility
Different plans that are available for your unique situation
How to enroll and the different enrollment periods
How much Medicare could cost you monthly
Isaac Wright: Welcome back to Wright Money Tips. We're heading into the early stages of fall and if you remember over the summer, we started talking about some of the building blocks towards financial planning, retirement planning, talking about IRAs. Last month we talked about annuities. Well, this month we're going to talk about Medicare.
We're going to be entering open enrollment coming up here in a few months to the end of the year. When you hear the word Medicare, a lot of times quite honestly, we take it for granted. But a lot of you out there listening and watching the program may not know what Medicare is, does, or how it works.
So, with that in mind, I want to introduce Aaron Reed. Aaron is one of our lead advisors here at Financial Dynamics. And Aaron, maybe we just simply need to start with what is Medicare?
Aaron Reed: Yeah, thanks for having me, Isaac. Medicare is a health insurance program offered by the federal government. Anyone that's 65 and older can apply. It covers the basic health insurance things: hospital stays, outpatients, prescription drugs, things like that.
Isaac Wright: You know, in the context of what you said, turning 65 under most circumstances, we're not going to get into the weeds about all the little minutiae of how you may be able to get it if you're not or if you're earlier and all that.
But Medicare itself comes in different parts. So, you know, we have Medicare Part A, Part B. We'll try to cover these parts today. But let's start with Part A. What does Medicare Part A do for somebody that enrolls in Medicare?
Aaron Reed: So, Part A is mostly your inpatient hospital stays, things like that. That's the biggest thing that comes to mind when I think about Part A. Y
Isaac Wright: You know hospitalization and doctors. Does Medicare have deductibles for the listeners? What I mean is that sometimes we have heard in the past, we literally have had people come in that have thought that Medicare pays for everything. Let's speak on that for a minute. Does Medicare have deductibles on Part A?
Aaron Reed: So, Medicare does have deductibles. It's not free. You know, depending on how many days you stay in the hospital, doctor visits, things like that, you will have deductibles. And there are also, you know, different parts you can choose to pay for and add on. Different parts that you may not need depending on what's going to be right for you and your individual situation.
But yes, there are some deductibles and some out-of-pocket expenses.
Isaac Wright: We just want to make sure that people don't think it's the end all be all. So, you know, you have your Part A, your hospitalization. Part B, which you and I obviously know this, but I think people need to understand. Part B is your doctors and you also have deductibles with your Part B.
So, for the most part, let me just kind of say this to everybody watching. Medicare, as far as enrolling in Medicare. So, coming off of your company or individual health care plan, we utilize several different health care professionals that are involved with Medicare because over the last 15, 20 years, we have seen this turn into a whole lot more of a complicated situation.
Enrolling itself may not be so complicated, but when to enroll and maybe again, getting back to the deductibles that we've talked about for all of you paying attention. There are ways to cover those deductibles. Let's talk a little bit about what do you typically enroll in to cover those holes in your plan that Medicare doesn't provide.
Aaron Reed: So, there's a lot of different ways, and like you said, nowadays, health insurance has become almost something that somebody needs to specialize in completely to know all of the ins and outs. But yes, you have different parts and different options, different supplemental plans that you can enroll in. There's a lot of things like that. There's, you know, several ways you can structure it depending on, again, what's going to fit your situation.
Isaac Wright: I think you and I know this, but basically for those paying attention again, listening. The deductibles can be pretty substantial, so making sure that you have a plan that covers those is typically very important for many people that are moving off of their health insurance plan with their company into Medicare and that supplemental plan to pay the bills that Medicare doesn't cover.
That's probably a good summary or way or just throwing it out there and then over the last, let's call it 10 years, give or take, you have Medicare Part C. Part C is typically, it's kind of been something new to the table called a Medicare Advantage Plan. Do you want to speak to that at all?
Aaron Reed: You know, one common thing is, a lot of people think that that's part of Medicare and from the government. But that's really a private insurer that's offered by private insurance companies. You know, there are pros and cons. Again, everybody's situation is different.
You know, one thing that I hear a lot is, "My neighbor did this or my coworker did this." And that might be the right thing for them, but depending on how often you go to the doctor, what kind of prescriptions you have, depending on your situation, maybe a Medicare supplement plan might be great for you. Maybe it's not.
People get calls from a lot of Medicare supplement companies and it's just, that's not part of the federal government. That's private insurance companies. Not that it's not a good thing for you, but a lot of people think that's part of the government.
Isaac Wright: The official welcome to Medicare. Medicare Part C in my opinion, knowing what we've seen with families and so forth. Part C typically has a scenario where it's a low to no premium. So, a lot of people like that upfront savings. But if you're dealing with a lot of medical complications, you may very well have deductibles that far exceed you just having a Medicare supplement.
So be careful what your neighbor is doing. It doesn't mean that's what you should be doing. And again, I don't want to go into the weeds with prescription drug coverage, but there are ways to be able to communicate, let's call it with somebody in the healthcare profession that's dealing with insurance and Medicare and having an independent relationship. We can help you with what I would call a nice conversation around how does that look because many medications today can be very expensive.
You know, Aaron, when we talk about the big picture between Medicare supplements, Medicare Advantage, prescription drugs, again, getting back to the topic of what I said at the top of the show. Today's not a show to spend an hour on this topic, but just want people to be introduced to key things that we cover every day.
IRAs, annuities, Medicare, your health insurance. We'll talk a few more here going into the fall. But you know, it's not easy to know your Medicare options, a lot of respects, is what I've found, I think you and I both have talked about. Anything you want to share before we wrap up today when it comes to Medicare, or just in general or when it comes to retirement?
Aaron Reed: You know, I think probably my biggest tidbit of advice on all of this is kind of like I said before. You don't necessarily just take your neighbor's advice on. If they found a great plan that fits for them and think that's going to be the best plan for you. Look at your retirement income picture, your overall health, and then work with a professional to figure out which one is going to fit best for you because it may not always be exactly the same for you. You know, best option that worked for your cousin or your neighbor or whoever the case.
Isaac Wright: And as we wrap up today, too, when you say this because I remember somebody that I had met with who made that recommendation form a neighbor's plan, went on an advantage plan. The neighbor was healthy, saved all kinds of money per month on their health insurance. This neighbor had multiple medical issues and was out of pocket, almost five figures for the year. So, needless to say, it can be an extremely expensive scenario that you can make a mistake in without proper planning.
So, guys, let's go wrap it up with that. All of you today, if you have any questions about your health care, maybe you're not quire 65. You're trying to retire and figuring out what your individual health insurance looks like before you even go into Medicare.
Health insurance is by far one of the biggest decisions you have to make whether you can retire or not for 99 percent of the public. So, feel free to reach out. That's exactly what we're here for. Maintaining your lifestyle and giving you some confidence as you head into your retirement. So, until next month, we will talk soon. Take care.
If you have any questions or concerns, you can visit WrightMoneyTips.com to request some time on our calendar or please subscribe to WrightMoneyTips.com to receive notifications on new episodes, our newsletter, and even upcoming events.
Advisory services offered through J.W. Cole Advisors, Inc. ("JWCA"). Financial Dynamics & Associates, Inc. and JWCA are unaffiliated entities.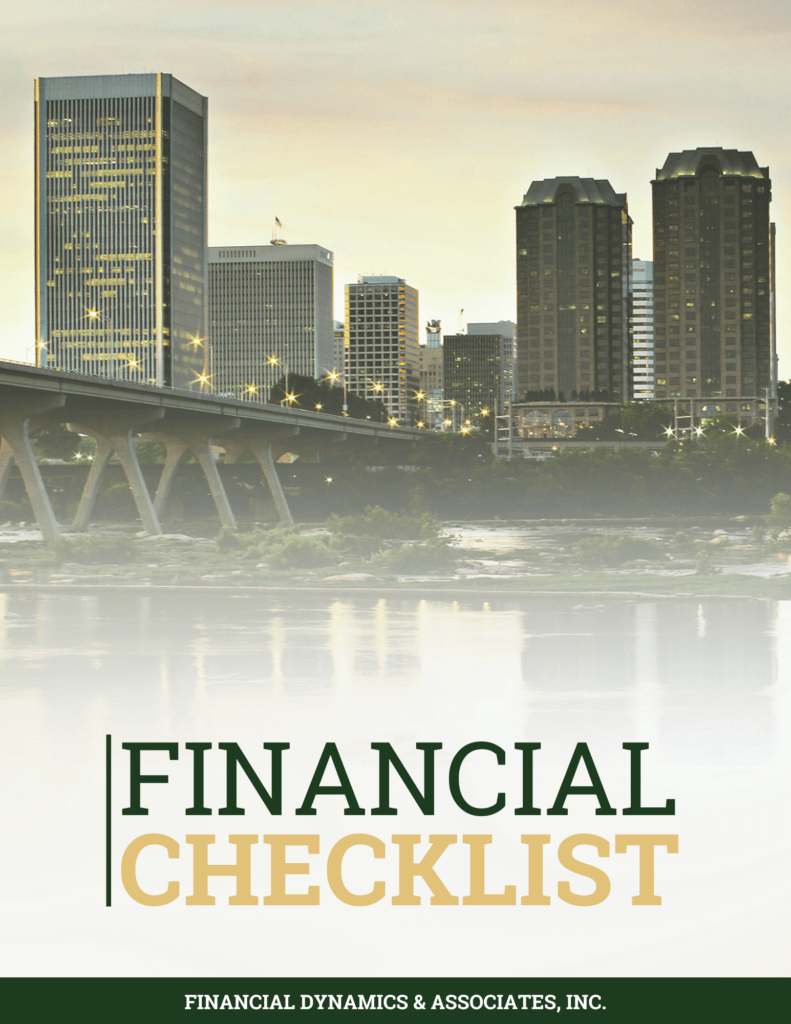 Get your complimentary copy of
Financial Checklist