Episode 37: Things to Consider When Preparing for Retirement
Ready for retirement or do you still have work to do? On this episode, Isaac Wright, CFP®, ChFC® and Kevin Buenvenida, CFP®, have a great conversation about the things you should consider when preparing for retirement.
Download your free Financial Checklist and assess your retirement readiness by visiting FinancialDynamicsRVA.com. If you can't check all the items, don't go it alone. Call our office today and speak with one of our financial planners!
Here are just a handful of the things that we'll discuss:
How to make sure that your lifestyle needs are being met.
Common shortfalls to avoid if you plan to retire soon.
How family can play a role in preparing for retirement.
The benefits of working with a financial planner.
Isaac Wright: Well, hello everyone. Welcome back to Wright Money Tips. We're here in February and if you remember our January show really focused on our financial checklist, offering you 34 different areas or concerns or things that we have found to make sure that you're moving towards the goals that you're trying to accomplish. Whether that's financial, or otherwise. However, I will say this, predominantly people are downloading our guide, calling into our office, talking with us and our team about retirement and whether or not they are on track for that goal. And so, we're going to really slow down and talk about this today.
Before we go any further, I want to introduce you to Kevin Buenvenida. Kevin's one of our lead advisors here. And again, to be clear, going back to what we covered in January. This financial checklist has really been downloaded a ton. So, if you're watching the program today and you haven't had a chance to get it, go to our website. You can call us at the office. We can schedule a few minutes to talk to you. Really, whatever it takes to make sure as we go into 2023, and of course through the year that you're in a good place.
But Kevin, let's slow down for a minute. Last month when we talked about our financial checklist, and again, everything is covered in their taxes, legal investments, cash flow. The biggest thing that we have found is people reaching out to us about their retirement. Are they able to retire?
Now, we talk about this and in a lot of different formats, but I wanted to talk a little bit again, just rehashing. What does it mean to help somebody get through their retirement years? And so, you know, I came up with a few, good questions here. Number one, the definition of retirement and pre-retirees. Let's walk through a little bit about what retirement means for somebody, typically when they're reaching out to us.
Kevin Buenvenida: Yeah, absolutely. So, through a conversation, and maybe the simplest answer is, determine when you want to retire. Now, to make that answer a little bit more complex, determine how you want to transition into retirement.
And that is going to be a very personal decision for each person. Some might say, "You know, I worked long and hard for 25, 30 years and I'm going to hang up my hat and then sit in front of the tv." That could be retirement for you, to move into that phase. Others might want to continue to stay busy, whether it's for additional income from part-time work, or maybe they'll want to continue a second career, but not work at a full-time schedule. So, a lot of different ways to cut it when you think about what does retirement transition look like for you.
Isaac Wright: And if you listen to what Kevin said, and I've said this many times, I've written about this a lot. People today choose an active retirement. And what I mean by that is they may still very well want to work. They may want to work a part-time job. They may want to bring in some additional supplemental income, whether they need it or not, just because they value their health, they value the mentality behind not sitting on the couch every day.
But again, if that's what you decide you want to do, we are not here to judge. But it's important that you have a good understanding of your cash flow, your investments, how your overall financial picture is going to look when you stop working. And you know, going into retirement is a big decision. What time of the year do you want to retire? Are you eligible for a bonus maybe through work if you work a certain number of months. I mean, for example, we have quite a few clients that I serve as their advisor, same here as our team. Maybe in March or April, they get a big bonus. Well, you know, they may have to stay and work. They don't want to retire January 1st. There's no set-in stone way of quote unquote retirement. That is really what we want to get across when it comes to retirement, transitioning into retirement. We talk about and of course, our tagline is "Financial planning to improve your lifestyle…that's what we do." Let's talk a little bit about that. So, lifestyle planning, as you transition to retirement, what does that typically look like for the families and the individuals that we work with and that you serve?
Kevin Buenvenida: Yeah, absolutely. So, it's a very personal conversation or part of the process here. It's basically assigning goals or levels of importance of the things you want to do for the rest of your life and to make sure that you have enough of the right resources to accomplish those goals.
Part of that conversation's going to be taking stock. What are those resources? Do I have enough in savings? Do I have enough in my retirement accounts? What are my retired income sources going to be like? Whether it's distributions from an investment account or if it's going to be a guaranteed source like social security, a pension, or some other source of income. And that could include rental income, for example.
And then as you go through that exercise, that conversation piece of establishing the priorities and what resources you have, making sure you account for certain things that you might not be able to control, like the stock market, for example. So aside from this plan, how I want to make my money work for me. What kind of risk do I really want to take? And knowing that at the beginning of the process and kind of staying true will probably help you avoid a large amount of pain, heartache, or worst-case scenario, coming out of retirement and going back into the workforce.
Isaac Wright: Well, I mean, this probably follows up really well. What are some common shortfalls that we see with people that are going into retirement that are not fully quote unquote prepared or working with a professional?
Kevin Buenvenida: Yeah, so risk tolerance is definitely an area that most people transitioning or thinking about retirement haven't really considered. Maybe along the way they thought "I'm a moderate or a growth-oriented investor." But they haven't really pegged down what does that look like. What are my uncle points when it comes to the amount of loss I can take with the stock market? So, knowing that ahead of time or going through an exhaustive process to identify that on a quantitative basis is going to be a key foundational element to put in place.
Isaac Wright: Well, and I, let me just parlay off of that just a touch because you know our job to help you is to kind of make sure that that analysis is easy on you. You know that's what our job is in general, is to make life easier for you. We do all the heavy lifting. We need you involved to a degree, but dependent upon your life goals, and of course, most people, if they hire an advisor, a professional, they want that person to take on that burden so they can free up their mental capacity for other needs and wants. Am I saying that correctly?
Kevin Buenvenida: Absolutely. And you know, to add additional level of insight that an individual investor maybe doing it themselves wouldn't have considered as part of a 35, 40-year long-term retirement plan, are to consider that there's a high probability you might live much longer than you actually think. In today's advancement of medical technologies, it's completely possible that you get to your early or mid-90s. Maybe even closer to 100 in terms of your final age.
Isaac Wright. Hitting the century points. I wouldn't call it normal yet, but it feels it's moving in that direction.
Kevin Buenvenida: Absolutely. So, you got to make sure that you appropriately invest your money above and beyond just saving so that you don't run out to accomplish those long-term goals. Other factors. You have to assume that things are going to get more expensive over time and if you don't account for inflation you're going to be in for a pretty big surprise.
Isaac Wright: When you see all that come to parlay in the last year or two.
Kevin Buenvenida: And the other part here, and that relates to, you know, your longevity is don't forget about your medical expenses. That's a huge bucket that you have to fill throughout your retirement.
Isaac Wright: Yeah, I mean, these are all solid points of why people choose to bring on a planner and have a good understanding of the value proposition there. Let me add to this because, you know, predominantly, again, talking to the people that are going through this. whether it's their early stages or they're yet to be somewhere between your mid to late forties, maybe all the way to your mid to late sixties. We're finding, again, that family is playing a huge role in the decision making of how to retire.
What I mean by this is you may have a mom or dad that's still alive, that are in their eighties or maybe even nineties when you're going into retirement. You may even have children coming out of college or you know out of school. Maybe have lost a job or just can't find that job to pay the bills. We've seen the cost of living go up so much. What role, you know, let's call it with, when we talk to people, what role are we serving in that capacity?
Kevin Buenvenida: Yeah. So, we want to be very aware about not only what is important about your money, but also how you want to benefit others or work with others, situations where support is going to be needed. From our planning standpoint, you know, we're not going to say, you know, don't continue a long-standing relationship with somebody, but we might help coach or talk about setting proper expectations or boundaries when we think about the types of support you might provide to each other.
Isaac Wright: I like that word boundaries. Because, man, it's tough sometimes. Quite frankly, over the years as I'm sitting here thinking about this, we've had to be the bad guy. And I tell families all the time, or the clients that we're serving blame us. You can't be there for everything, for everybody.
So, you know, it's good maybe to have somebody that's alongside of you to make some of those tough decisions.
Kevin Buenvenida: And we're going to approach that type of emotional conversation from a very analytical standpoint, where we can weigh out the pros and cons. Are you willing to sacrifice your personal retirement success with a negative consequence of potentially not being able to provide support for the loved one or maybe even yourself. Does that make sense to go through different pathways? Or are there other appropriate means where we can still provide some semblance of support but not take on the full responsibility or have the burden just on us?
Well, I want to say Kevin, again, these are always good conversational points. I think sometimes when people watch our show, they realize that, you know, maybe not necessarily over a 10 or 12 minute period are we going to go into all of the deep dive. But for your needs, our financial checklist, if you're getting close, if you're considering how retirement is going to look, painting that picture. Reach out, give us a call, visit our website, download our financial checklist. I think you'll find that to be a very good use of your time and your energy to read through that for a little bit. And of course, we're here to help. But Kevin, again, thank you for being on the program.
For all of you that pay attention every month or get a chance to see us every now and then, either way, we look forward to having you back on and watching us hopefully again next month. So, take care and we'll talk to you soon.
If you have any concerns or questions, you can visit WrightMoneyTips.com to request some time on our calendar. Or please subscribe when visiting WrightMoneyTips.com to receive notifications on new episodes, our newsletter, and even upcoming events.
Advisory services offered through J.W. Cole Advisors, Inc. ("JWCA"). Financial Dynamics & Associates, Inc. and JWCA are unaffiliated entities.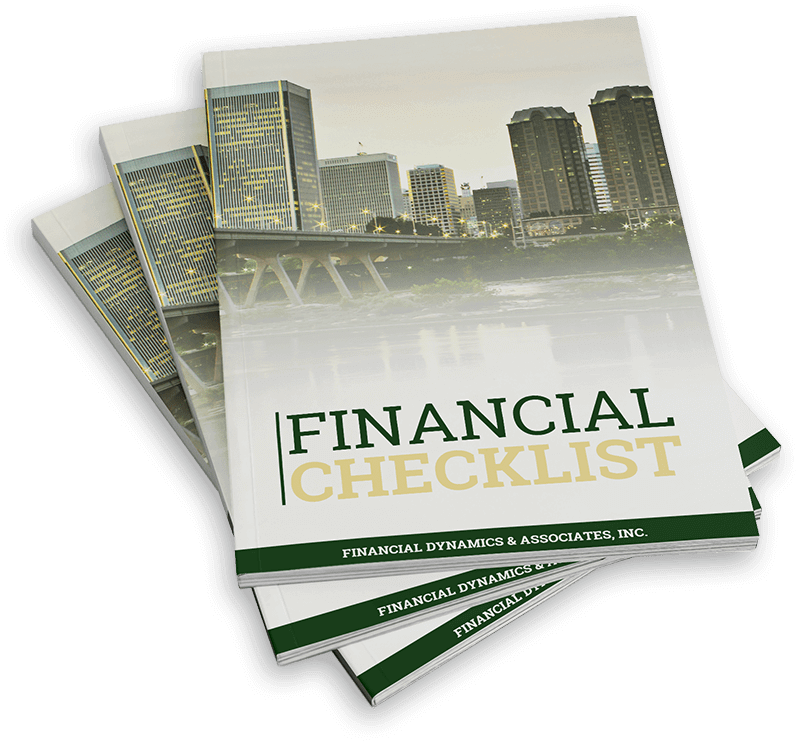 Get your complimentary copy of
Financial Checklist