Episode 29: Don't Be a Victim to Identity Fraud
All too often we hear about huge security breaches. Unfortunately, there have been times that we've had to help several clients navigate the challenges of identity fraud directly or indirectly. On this episode, Isaac Wright, CFP®, ChFC® and Kevin Buenvenida, CFP®, tackle a topic that is sure to help you protect your identity and time associated with recovering from it!
Here are just a handful of the things that we'll discuss:
How to protect yourself from potential cyber threats.
What to do if you are a victim of identity fraud.
Tips to protect you and your family with social media and downloadable apps for your phone.
Isaac Wright: Well, we're halfway through the year and as you've been paying attention here for the last couple of episodes, and really for this quarter, I wanted to keep simple, straightforward topics in front of you about things that really are concerning people. So, remember we talked about documents back in April. Talked about just core ways to be able to view your investments and how to be able to really create those objectives.
Well, listen, I think everybody can raise their hand to the following: How many of you have been in a position where you have been the victim of identity theft, fraud or known somebody who has? I think we probably could all raise our hands to that.
So, for those of you who haven't met Kevin, Kevin's one of our financial planners here at Financial Dynamics. And we talk a lot about this because people are constantly worried, especially when it comes to their investments, when it comes to their documents, how to keep things secure. How to keep things encrypted. All those nice fancy terms. So, we're going to go jump into that conversation today. I think you're going to want to pay attention on today's episode, because we're going to talk about building blocks of things that you absolutely have control over when it comes to some of these security measures, especially in the world of computers, looking at that cybersecurity route, if you will.
So, let's go ahead and just jump into this because I think a lot of our viewers and listeners, people that we have conversations with around the office, they get a little overwhelmed sometimes, especially if they've been the victim of an identity theft or fraud.
So, let's just talk about basic, fundamental things that almost anybody can do to limit, and it's amazing some of these things that you can do that are so simple that you can do to limit being the next victim of identity fraud. So, Kevin, go ahead and pick us up about where kind of, maybe where you want to start us at on just those common denominators.
Kevin Buenvenida: Yes. We'll start with the basics. So, when we think about our online access or the key to getting all of our personal information, it's the password. So, you want to make sure that your password is secure, and we'll talk of a couple of other points about that. Number one, make sure your password is strong in the way that it's crafted.
So, don't set up your password as literally the word password or your birth date. You want to make it strong enough so that it is specific to you, but also is going to make it tough for anybody who does happen to find the right combination of letters, keywords, to actually crack that. So as annoying as it is, make sure you have those capital letters, lowercase letters, maybe even those special characters, numbers in the mix so that you have a good strong credential as a first form of protection.
Isaac Wright: You know, when you're telling me this and for those of you who are listening. When you start talking about uppercase, lowercase, numbers, and all the above, please, whatever you create, don't duplicate it and use that same combination for all of your passwords. It's easy to do, but if somebody cracks one, winds up cracking everything when it comes to that situation. So, you do have to create numerous ways to do that, which again, we talked a little bit about this couple of months ago when I was talking to Aaron, but creating, almost like a password application. There are ways to be able to store those type of passwords when you build multiple ones where you have a resource, maybe talk a little bit about that.
Kevin Buenvenida: So, you have tools available that can basically take the burden of having to memorize 50, 60, a hundred different passwords. So, find yourself a well-rated, but also secure password manager and essentially you only have to remember one key password to get access to that platform.
When you think about enhanced protection as well, sometimes those platforms, those programs offer what we call two factor authentication, where essentially it will ping you through your phone, a phone call, text message, or email, or maybe even through a separate program itself that says, "Are you who you are?" when you go to access that website. And that's a highly recommended second form of verification when you go to access a website.
Isaac Wright: Well, you know, again, these are basics where everybody has to have a password now in some respects. You may have noticed this a lot with your own logins with your banks and other institutions. Two factor authentication, which other words you have a password, then on top of that, you may have to get a text message to further identify you. This is really going to help limit a lot of that additional identity theft and fraud, probably overdue. It's a step that becomes a little frustrating at times, but welcome to the world we're in today.
I think this is what we have to kind of consider, when it comes down to limiting the fact that, once you become a victim of identity theft to a great degree like that, it's really difficult to get your life back in order. Anything you want to add to this conversation here, Kevin?
Kevin Buenvenida: When you think about other fundamentals, the mechanics, you want to take extra steps and precautions that prevents you from getting packed. So, number one, if you were working on a computer or mobile phone tablet, make sure it's up to date in terms of the software. We get nagged all the time with a little notification icon that says update your software, and it may take few minutes to do so. I think that's a good form of protection to make sure that you've got the latest version of your software on your browser. And maybe even the mobile application that you're using as that provider has updated their own security settings to make sure you've got the most secure version that you're working with.
Isaac Wright, Yeah, let me say, when it comes to this, you can tell this is not going to be an overwhelmingly technical episode or anything, but if you're not a computer savant, if you're not able to handle or understand what updating your software is around security and stuff, find somewhere that you can take your laptop or have somebody come visit you at your house once or twice just to do those kinds of updates.
I mean, at the bare bones' minimum, you hire somebody maybe for $100, $200 and they come in and just kind of review the lay of the land of what you have at your house. Because again, you're just trying to protect a lot of the stuff that you're now having to go on the computer, whether you want to or not.
Kevin Buenvenida: And you think about other forms of, let's say we're living our online digital life. We all have access to email this day and age. We do a lot of things through that form of correspondence committee. From time to time, you're going to get an interesting email that says, "Click here or download this program." Before you do any of that, always verify the sender. Make sure it's a safe sender or somebody you know that's actually sending you that information. So, don't automatically download or click those links when you get them.
Isaac Wright: And they're getting, I mean, it's getting really slick because some people's emails are getting hacked or spoofed and it may look like you're getting an email from a friend and one letter is different than the email address than what the friend's email is.
I mean, that's how close it can be and then everything else looks legit. "Hey, check this out. You won't believe what happened." And they send you a link. Well, of course you want to see what happens. You click that and welcome to the world of now you have given them access to be able to kind of put a Trojan horse on your computer and find your passwords and God knows whatever else.
So, I mean, that's why I think that you're in this world today, you have to be kind of understanding. If it doesn't look 100% accurate, take a second, take a breath and read, don't just jump at something that looks maybe out of the blue.
Kevin Buenvenida: And in kind of thinking along the same lines of communication today, social media is a really popular thing. Maybe it's critical, right? We all have an online presence to some degree. Be careful with what you post online. You're essentially giving the keys to the kingdom if you are basically sharing your location and giving access to personal pictures.
So, as you start to venture into social media, make sure your settings are updated appropriately. That you've got the people you want to be seeing your profile on the right setting. Try to keep out the nefarious individuals accessing all that, you know, a gold mine of information on you.
Isaac Wright: Yeah, and I can take that to heart. I mean, granted, we have a social media account and a business account. What I would recommend to all of you is this is, if you have on social media your name, your kids' names, your wife's name, date of birth, all that, please do not incorporate that into your passwords. That's some of the things that they are able to kind of part and parcel. And again, you wouldn't think maybe they'll be able to catch on to it, but that's a big deal.
So, you know, one thing I want to just jump off real quick as I'm sitting here thinking about this. You know, all of us have access to these today. Any quick tips on cell phones, security, if you don't mind, if you have any thoughts around that.
Kevin Buenvenida: Absolutely. So, same concept about the password. We've got the face ID or the numeric passwords that we can use to unlock the phones. Make sure that the password that you set is relatively strong. So, same principle and making sure that the code combination is long enough and it's also not basic repeating numbers. So, entering your password as 1, 1, 1, 1. It's probably not the smartest idea, if someone could just guess in a couple of tries. But also again, make sure that privacy setting and all of the mobile applications and the operating software are all up to date.
Isaac Wright: Especially, you know, people today and I think most people understand it, whether again, you're computer advanced or not. But you know, downloading different applications to your phone, just want to make sure that you have somebody that's verifying that app that somebody else has and you know it works. I mean, if you think about even some of the larger apps, they were worried about Tik TOK which is another social media app. But that was, you know, somehow some way, could that be used in a bad sense because I think it was a Chinese based app or something like that.
So, I mean, I'm not saying that's a bad app, by the way. I'm just saying you guys have to pay attention to maybe some apps. If you are downloading, make sure that you're downloading the right one. Some apps even, I think somewhat spoofed or maybe somewhere along the lines have been some issues there too.
Yeah. And also be mindful if you have kids. In this day and age, we hand out our cell phones to them for personal use at relatively young ages. So just as you're protecting yourself with what apps you download, make sure you know, what your kids are downloading, or if you've given them access to apps and that right to make online purchases. Put some sort of barrier or parental lock, so they can't go purchasing XYZ number of dollars in the most recent app that you weren't aware of in the first place.
Isaac Wright: Yeah. And I've seen that. We've seen that. So, real quick before we wrap up. If you do become a victim of identity theft, quick one or two things that we tell everybody to do. If you haven't heard this, this is something that you're going to want to hear, because again, if it does happen, you want to know what to do. So go ahead and take it away, Kevin.
Kevin Buenvenida: Try to find out what information was compromised or hacked and the severity of that information. So, if it's something along the lines of a Social Security number, or personal bank account information, act quickly. Your next step after identifying or triaging, how bad the situation is, is to contact the credit bureaus. You may want to consider kind of locking things down in terms of your credit report: Equifax, TransUnion, Experion. So, notify them and they'll gladly put a lock or work with you on putting a lock on your credit report. And then also contact your institutions that were affected and contact them directly.
So, you may even be in a situation where you've already been hacked, and you may continuously be susceptible to future hacks from that same party if you don't go directly to that provider. So, the continuous emails that you might get, make sure it's from the right sender, it's from the appropriate parties. But go straight to the provider such as your bank, maybe even the social media institution and see what they could do to help. And maybe one last step, and maybe this is also a form of prevention. Consider signing up for some sort of identity theft protection from a reputable company. And that's the keyword or set of keywords. Reputable companies to help keep you in a good spot, but also if you do fall into that situation, you've got a team of professionals behind you that you're leveraging to get you out of that bad situation.
Isaac Wright: Well, you know, as we're sitting here, we're wrapping up the conversation. In a way, when it comes down to having a relationship with somebody that's going to be there for you when it comes to your lifestyle, when it comes to your finances, the resources that you've been able to accumulate, all of the topics that we're covering here today, you want to make sure you have somebody that's going to have your back when it comes to understanding the topics that we talk about again on the show here, Wright Money Tips.
But I want to thank all of you again for always tuning in for being here, listening to as much as you can to our show. I think this has been a great program today. I think if you paid attention here, we're just going to say this. I think when you have somebody that's building a relationship with you, when it comes to your lifestyle, your finances and really more importantly is being able to take care of you on all these accords, is that you want to be in a place that somebody is thinking about these things for you.
So, I think Kevin, everything we've covered today, I think has been right spot on. Easy things to implement. Sometimes can be a little time consuming, but once they're done, I think it's nice that you have them done.
And if you have any questions related to your finances related to your lifestyle plan and whether or not you're on track for any of those goals, please feel free to reach out to us. Until next time here on Wright Money Tips, we'll look forward to talking to you soon.
If you have any concerns or questions, you can visit wrightmoneytips.com to request some time on our calendar. Or please subscribe when visiting wrightmoneytips.com to receive notifications on new episodes, our newsletter and even upcoming events.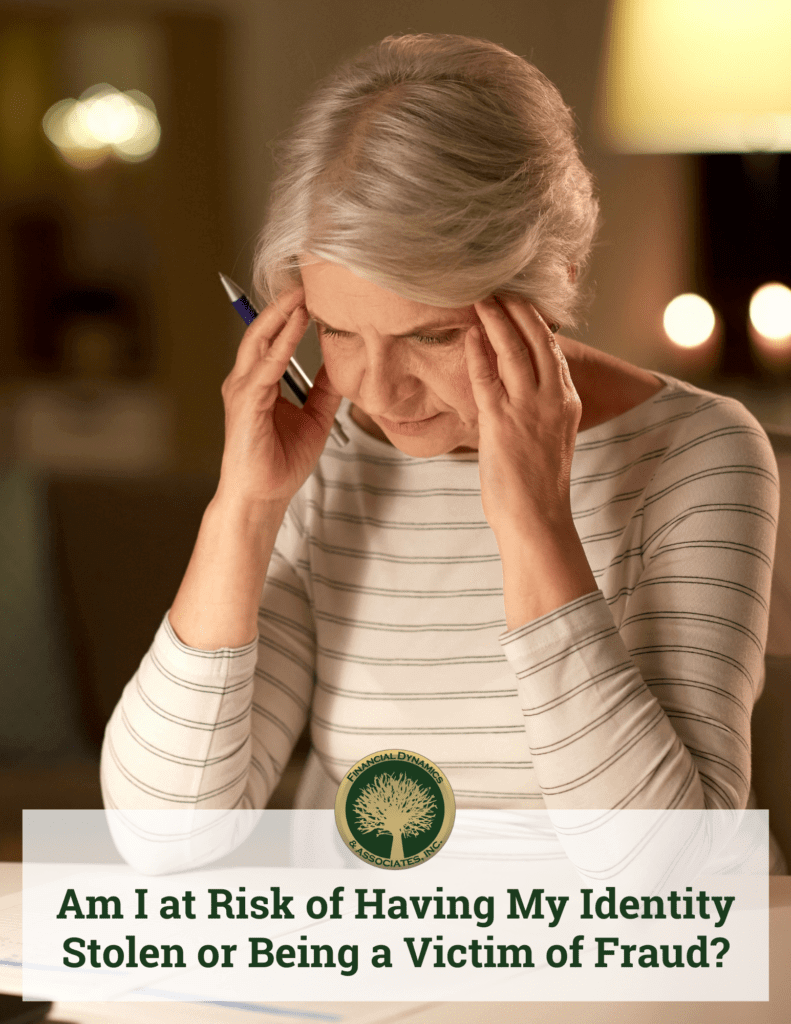 Get your complimentary copy of
Am I At Risk of Having My Identity Stolen or Being a Victim of Fraud?
Download your guide!
Am I At Risk of Having My Identity Stolen or Being a Victim of Fraud?